CATEGORIES
LATEST NEWS
CONTACT US
ADD: Room A-2706,Unit 2,Hengrui Building,Zhuque South Road,Yanta District,Xi'an,China.
TEL: 0086-29-62900208
FAX: 0086-29-62950916
E-mail: info@plant-extracts.com

> fruit extract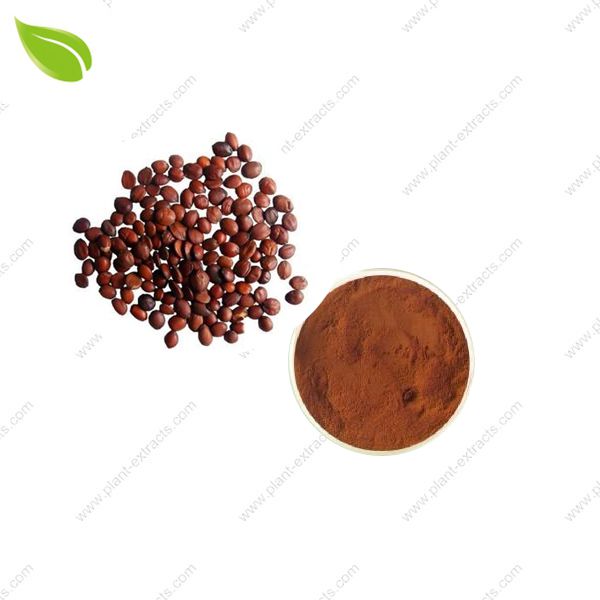 Spine Date Seed Extract
Min.Order Quantity:1 Kilogram/Kilograms
Supply Ability:1000 Kilogram/Kilograms per Month
Port:the main port of china
Payment Terms:L/C,T/T
Product description: Spine date seed extract manufacturer and Spine date seed extract supplier also factory wholesaler distributor - over 4,000 Spine date seed extract buyers around the world at plant-extracts.com
PRODUCT INTRODUCTION
Specifications
Spine Date Seed Extract
Jujuboside> 2%, 4:1,6:1,10:1 by UV
Yellow brown powder
Introduction
Semen Ziziphi Spinosae, the seed of Ziziphus jujuba Mill. var. spinosa (bunge) Hu ex H.F. The seed of Ziziphus jujube Mill. var. spinosa (Bunge) Hu ex H. F. Chou,
Suanzaoren in Chinese, is one of commonly used Chinese medicines. Saponins and fatty oil contains several fatty acids in Suanzaoren are responsible for its therapeutic
activities. This herb has jujuboside A, jujuboside B, lauric acid, myristic acid, palmitic acid, palmitoleic acid,stearic acid, oleic acid, linoleic acid, arachidic
acid and docosanoic acid. See also jujubogenin information.
Main Function
1.Calm, hypnotic effects;
2.Resistance to anxiety;
3.enhance the immune functions;
4.improve memory function;
5.the influence of the cardiovascular system;
Packaging & Delivery
Packaging Detail:cardboard drums, with double aseptic food poly bags inside. 25kgs/drum
Delivery Detail:In three days upon the receipt of the payment
Plant Extract Products List
Home -> Product -> Plant Extract->Ginseng Extract
Home -> Product -> Plant Extract->Magnolia Bark Extract
Home -> Product -> Plant Extract->Hawthorn Leaf Extract
Home -> Product -> Plant Extract->Grape Seed Extract
Home -> Product -> Plant Extract->Sophora Japonica Extract
Home -> Product -> Plant Extract->Aloe Vera Extract
Home -> Product -> Plant Extract->Cordyceps Extract
Home -> Product -> Plant Extract->Eucommia Ulmoides Extract
Home -> Product -> Plant Extract->Rhodiola Rosea Extract
Home -> Product -> Plant Extract->Methyl Hesperidin
Home -> Product -> Plant Extract->Kudzu Root Extract
Home -> Product -> Plant Extract->Mulberry Leaf Extract
Home -> Product -> Plant Extract->Senna Leaf Extract
Home -> Product -> Plant Extract->Scutellaria Baicalensis Extract
Home -> Product -> Plant Extract->Ginger Extract
Home -> Product -> Plant Extract->Pomegranate Extract
Home -> Product -> Plant Extract->Shaddock Peels Extract

Home -> Product ->Herbal Extract->Eucommia Ulmoides Oliv Extract
Home -> Product ->Herbal Extract->Coriolous Versicolor Extract
Home -> Product ->Herbal Extract->Polyporus Umbrellatus Extract
Home -> Product ->Herbal Extract->Konjac Extract
Home -> Product ->Herbal Extract->Schisandra Extract
Home -> Product ->Herbal Extract->Stevia Extract
Home -> Product ->Herbal Extract->Bamboo Leaf Flavonoids
Home -> Product ->Herbal Extract->Pine Bark Extract
Home -> Product ->Herbal Extract->Rhodiola Rosea Root Extract
Home -> Product ->Herbal Extract->Marigold Extract
Home -> Product ->Herbal Extract->Andrographis Extract
Home -> Product ->Herbal Extract->Motherwort Extract
Home -> Product ->Herbal Extract->Kava Extract

Home -> Product ->Vegetable Extract->White Kidney Bean Extract
Home -> Product ->Vegetable Extract->Broccoli Powder
Home -> Product ->Vegetable Extract->Wheat Grass Powder
Home -> Product ->Vegetable Extract->Dried Potato Powder
Home -> Product ->Vegetable Extract->Red Pepper Powder
Home -> Product ->Vegetable Extract->Black Bean Extract
Home -> Product ->Vegetable Extract->Pumpkin Powder
Home -> Product ->Vegetable Extract->Cucumber Powder
Home -> Product ->Vegetable Extract->Onion Powder
Home -> Product ->Vegetable Extract->Soybean Extract
Home -> Product ->Vegetable Extract->Barley Grass Powder
Home -> Product ->Vegetable Extract->Celery Powder
Home -> Product ->Vegetable Extract->Spinach Powder
Home -> Product ->Vegetable Extract->Carrot Powder
Home -> Product ->Vegetable Extract->Garlic Powder
Home -> Product ->Vegetable Extract->Tomato Powder
Home -> Product ->Vegetable Extract->Cucumber Extract

Home -> Product ->Fruit Extract->Papaya Juice Powder
Home -> Product ->Fruit Extract->Bitter Orange Extract
Home -> Product ->Fruit Extract->Passion Fruit Juice Powder
Home -> Product ->Fruit Extract->Acai Berry Juice Powder
Home -> Product ->Fruit Extract->Pineapple Juice Powder
Home -> Product ->Fruit Extract->Grapefruit Juice Powder
Home -> Product ->Fruit Extract->Blackcurrant Juice Powder
Home -> Product ->Fruit Extract->Wolfberry Extract
Home -> Product ->Fruit Extract->Cranberry Juice Powder
Home -> Product ->Fruit Extract->Hawthorn Extract
Home -> Product ->Fruit Extract->Mango Juice Powder
Home -> Product ->Fruit Extract->Acai Berry Extract
Home -> Product ->Fruit Extract->Blueberry Juice Powder
Home -> Product ->Fruit Extract->Ursolic Acid
Home -> Product ->Fruit Extract->Strawberry Juice Powder
Home -> Product ->Fruit Extract->Raspberry Juice Powder
Home -> Product ->Fruit Extract->Lychee Juice Powder
Home -> Product ->Fruit Extract->Pomegranate P.E.
Home -> Product ->Fruit Extract->Orange Powder
Home -> Product ->Fruit Extract->Lemon Juice Powder
Home -> Product ->Fruit Extract->Spine Date Seed Extract
Home -> Product ->Fruit Extract->Guava Juice Powder
Home -> Product ->Fruit Extract->Peach Powder
Home -> Product ->Fruit Extract->Cherry Juice Powder

Home -> Product ->Losing Weight Extract->Kidney Bean Extract
Home -> Product ->Losing Weight Extract->Garcinia Cambogia Extract
Home -> Product ->Losing Weight Extract->Cassia Nomame Extract
Home -> Product ->Losing Weight Extract->Green Coffee Bean Extract

Home -> Product ->Mushroom Extract->Agaricus Blazei Murill Powder
Home -> Product ->Mushroom Extract->Chaga Mushroom Extract
Home -> Product ->Mushroom Extract->Needle Mushroom Powder
Home -> Product ->Mushroom Extract->Cordyceps Mycelia Extract
Home -> Product ->Mushroom Extract->Hericium Erinaceus Powder
Home -> Product ->Mushroom Extract->Agaric Powder
Home -> Product ->Mushroom Extract->Ganoderma Extract
Home -> Product ->Mushroom Extract->Shiitake Mushroom Powder

Home -> Product ->Spices Powder->Cumin Seed Extract
Home -> Product ->Spices Powder->Mint Seasoning Powder
Home -> Product ->Spices Powder->Mustard Seasoning Powder
Home -> Product ->Spices Powder->Red Rice Yeast Extract
Home -> Product ->Spices Powder->Tangerine Peel Extract Powder
Home -> Product ->Spices Powder->Pricklyash Peel Extract
Home -> Product ->Spices Powder->Anise Extract
Home -> Product ->Spices Powder->Dried Onion Powder
Home -> Product ->Spices Powder->Coix Seed Extract
Home -> Product ->Spices Powder->Almond Extract
Home -> Product ->Spices Powder->Garlic Extract
Home -> Product ->Spices Powder->Curcuma Extract
Home -> Product ->Spices Powder->Cinnamon Extract
Home -> Product ->Spices Powder->Nutmeg Extract
Home -> Product ->Spices Powder->Lilac Extract
Home -> Product ->Spices Powder->Pepper Extract
Home -> Product ->Spices Powder->Bay Leaf Extract
Home -> Product ->Spices Powder->Fennel Extract