CATEGORIES
LATEST NEWS
CONTACT US
ADD: Room A-2706,Unit 2,Hengrui Building,Zhuque South Road,Yanta District,Xi'an,China.
TEL: 0086-29-62900208
FAX: 0086-29-62950916
E-mail: info@plant-extracts.com

> herbal extract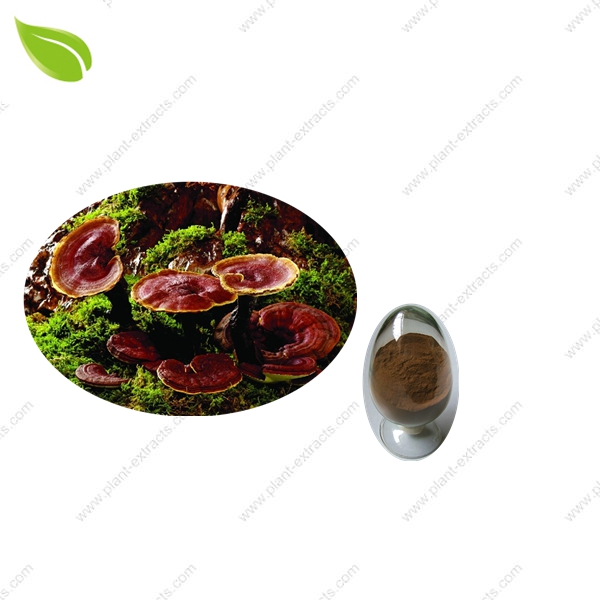 Ganoderma Extract
Min.Order Quantity:0.5 Kilogram/Kilograms
Supply Ability:1 Kilogram/Kilograms per Week
Port:China Main Port
Payment Terms:L/C,D/A,D/P,T/T,Western Union,MoneyGram
Product description: Ganoderma Extract manufacturer and Ganoderma Extract supplier also factory wholesaler distributor - over 4,000 Ganoderma Extract buyers around the world at plant-extracts.com
PRODUCT INTRODUCTION
Specifications
1.Manufacturer sales ganoderma extract
2.100% nature
3.10:1 20:1 Polysaccharose20%
4.Favorable price & Best quality
Product name: 10%-50% Polysaccharides ganoderma lucidum extract; ganoderma lucidum powder, ganoderma extract
English name: Reishi Mushroom Extract/Ling Zhi Extract
Latin name: Ganoderma Lucidum
Ingredient: Polysaccharides/ Triterpenoids
Specification: 10:1;10%-50% Polysaccharides; 10%polysaccharide/6%Triterpenoids
Testing methods: UV
Extraction Type:Solvent Extraction
Function:
1. Enhance immunoregulation, promotes metabolism
2. Prolong life and anti-aging, improve the skin health care
3. Anti-tumor and anti-radiation, inhibit tumor growth, prevent postoperative recurrence of cancers, reduce side-effects during chemotherapy or radiotherapy, such as mitigate the pains, suppress hair loss, etc
4. Anti-cardiovascular diseases via germanium eliminating toxins from blood, anti-hypertension, lower blood sugar and cholesterol
5. Protect liver and enhance detoxification, thus improving liver function and repairing of liver tissue injury
6. Has a significant efficacy on removing anxiety, anti-fatigue, anti-insomnia, anti amnesia, improve sleep.
Package and Storage
1. 25kgs/drum, inner by double plastic bag, 1-20kg by aluminum foil vacuum bag.
2. Stored in a cool & dry well-closed container, keep away from moisture and strong light/heat.
3. Shelf life: Two years under well storage situation.
Plant Extract Products List
Home -> Product -> Plant Extract->Ginseng Extract
Home -> Product -> Plant Extract->Magnolia Bark Extract
Home -> Product -> Plant Extract->Hawthorn Leaf Extract
Home -> Product -> Plant Extract->Grape Seed Extract
Home -> Product -> Plant Extract->Sophora Japonica Extract
Home -> Product -> Plant Extract->Aloe Vera Extract
Home -> Product -> Plant Extract->Cordyceps Extract
Home -> Product -> Plant Extract->Eucommia Ulmoides Extract
Home -> Product -> Plant Extract->Rhodiola Rosea Extract
Home -> Product -> Plant Extract->Methyl Hesperidin
Home -> Product -> Plant Extract->Kudzu Root Extract
Home -> Product -> Plant Extract->Mulberry Leaf Extract
Home -> Product -> Plant Extract->Senna Leaf Extract
Home -> Product -> Plant Extract->Scutellaria Baicalensis Extract
Home -> Product -> Plant Extract->Ginger Extract
Home -> Product -> Plant Extract->Pomegranate Extract
Home -> Product -> Plant Extract->Shaddock Peels Extract

Home -> Product ->Herbal Extract->Eucommia Ulmoides Oliv Extract
Home -> Product ->Herbal Extract->Coriolous Versicolor Extract
Home -> Product ->Herbal Extract->Polyporus Umbrellatus Extract
Home -> Product ->Herbal Extract->Konjac Extract
Home -> Product ->Herbal Extract->Schisandra Extract
Home -> Product ->Herbal Extract->Stevia Extract
Home -> Product ->Herbal Extract->Bamboo Leaf Flavonoids
Home -> Product ->Herbal Extract->Pine Bark Extract
Home -> Product ->Herbal Extract->Rhodiola Rosea Root Extract
Home -> Product ->Herbal Extract->Marigold Extract
Home -> Product ->Herbal Extract->Andrographis Extract
Home -> Product ->Herbal Extract->Motherwort Extract
Home -> Product ->Herbal Extract->Kava Extract

Home -> Product ->Vegetable Extract->White Kidney Bean Extract
Home -> Product ->Vegetable Extract->Broccoli Powder
Home -> Product ->Vegetable Extract->Wheat Grass Powder
Home -> Product ->Vegetable Extract->Dried Potato Powder
Home -> Product ->Vegetable Extract->Red Pepper Powder
Home -> Product ->Vegetable Extract->Black Bean Extract
Home -> Product ->Vegetable Extract->Pumpkin Powder
Home -> Product ->Vegetable Extract->Cucumber Powder
Home -> Product ->Vegetable Extract->Onion Powder
Home -> Product ->Vegetable Extract->Soybean Extract
Home -> Product ->Vegetable Extract->Barley Grass Powder
Home -> Product ->Vegetable Extract->Celery Powder
Home -> Product ->Vegetable Extract->Spinach Powder
Home -> Product ->Vegetable Extract->Carrot Powder
Home -> Product ->Vegetable Extract->Garlic Powder
Home -> Product ->Vegetable Extract->Tomato Powder
Home -> Product ->Vegetable Extract->Cucumber Extract

Home -> Product ->Fruit Extract->Papaya Juice Powder
Home -> Product ->Fruit Extract->Bitter Orange Extract
Home -> Product ->Fruit Extract->Passion Fruit Juice Powder
Home -> Product ->Fruit Extract->Acai Berry Juice Powder
Home -> Product ->Fruit Extract->Pineapple Juice Powder
Home -> Product ->Fruit Extract->Grapefruit Juice Powder
Home -> Product ->Fruit Extract->Blackcurrant Juice Powder
Home -> Product ->Fruit Extract->Wolfberry Extract
Home -> Product ->Fruit Extract->Cranberry Juice Powder
Home -> Product ->Fruit Extract->Hawthorn Extract
Home -> Product ->Fruit Extract->Mango Juice Powder
Home -> Product ->Fruit Extract->Acai Berry Extract
Home -> Product ->Fruit Extract->Blueberry Juice Powder
Home -> Product ->Fruit Extract->Ursolic Acid
Home -> Product ->Fruit Extract->Strawberry Juice Powder
Home -> Product ->Fruit Extract->Raspberry Juice Powder
Home -> Product ->Fruit Extract->Lychee Juice Powder
Home -> Product ->Fruit Extract->Pomegranate P.E.
Home -> Product ->Fruit Extract->Orange Powder
Home -> Product ->Fruit Extract->Lemon Juice Powder
Home -> Product ->Fruit Extract->Spine Date Seed Extract
Home -> Product ->Fruit Extract->Guava Juice Powder
Home -> Product ->Fruit Extract->Peach Powder
Home -> Product ->Fruit Extract->Cherry Juice Powder

Home -> Product ->Losing Weight Extract->Kidney Bean Extract
Home -> Product ->Losing Weight Extract->Garcinia Cambogia Extract
Home -> Product ->Losing Weight Extract->Cassia Nomame Extract
Home -> Product ->Losing Weight Extract->Green Coffee Bean Extract

Home -> Product ->Mushroom Extract->Agaricus Blazei Murill Powder
Home -> Product ->Mushroom Extract->Chaga Mushroom Extract
Home -> Product ->Mushroom Extract->Needle Mushroom Powder
Home -> Product ->Mushroom Extract->Cordyceps Mycelia Extract
Home -> Product ->Mushroom Extract->Hericium Erinaceus Powder
Home -> Product ->Mushroom Extract->Agaric Powder
Home -> Product ->Mushroom Extract->Ganoderma Extract
Home -> Product ->Mushroom Extract->Shiitake Mushroom Powder

Home -> Product ->Spices Powder->Cumin Seed Extract
Home -> Product ->Spices Powder->Mint Seasoning Powder
Home -> Product ->Spices Powder->Mustard Seasoning Powder
Home -> Product ->Spices Powder->Red Rice Yeast Extract
Home -> Product ->Spices Powder->Tangerine Peel Extract Powder
Home -> Product ->Spices Powder->Pricklyash Peel Extract
Home -> Product ->Spices Powder->Anise Extract
Home -> Product ->Spices Powder->Dried Onion Powder
Home -> Product ->Spices Powder->Coix Seed Extract
Home -> Product ->Spices Powder->Almond Extract
Home -> Product ->Spices Powder->Garlic Extract
Home -> Product ->Spices Powder->Curcuma Extract
Home -> Product ->Spices Powder->Cinnamon Extract
Home -> Product ->Spices Powder->Nutmeg Extract
Home -> Product ->Spices Powder->Lilac Extract
Home -> Product ->Spices Powder->Pepper Extract
Home -> Product ->Spices Powder->Bay Leaf Extract
Home -> Product ->Spices Powder->Fennel Extract